By ASTC on 07/06/11 at 12:04 pm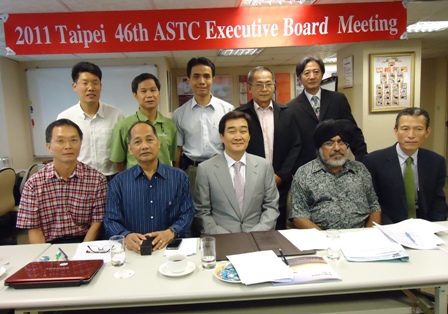 The Executive Board of the Asian Triathlon Confederation held its latest meeting in Taipei, Chinese Taipei on June 4
During the meeting several important issues were discussed. Mr. Yu, Kyung Sun, ASTC President, expressed in his report that the ASTC is on the right track moving forward. And he and KTF have tried best to include Mixed Team Relay event in 2014 Incheon Asian Games. He highlighted "including the new discipline in the next Asian Games means more than just one more medal. It will be a mile stone for our sport development because the discipline will boost women development in Asia and provide more opportunities to emerging NFs.
The bid conditions for the Next Asian Championships have been finalized. The mixed team relay was included and LOC need to provide one more day accommodations and meals to the participating NFs. 2012 Asian Championships will be hosted from 13th to 15th of April in Tateyama city, Japan.

Mr. Yu, Kyung Sun, ASTC President and Dr. Dana Tai, Chinese Taipei Sports Minister
Before the meeting, Chinese Taipei Federation invited their Sport Minister, Dr. Dana Tai, to the dinner with ASTC EB members. She is one of dedicated age group triathletes in Chinese Taipei having been competing at many triathlon events in Chinese Taipei. During the dinner, Mr. Yu, Kyung Sun, ASTC President, expressed his deepest appreciation for her full support to upcoming Asian Championships and Chinese Taipei Federation on behalf of ASTC.
The next meeting will be held in Beijing prior to the ITU World Championships Gran Final.