By ASTC on 03/09/14 at 5:27 pm
On the occasion of 10th anniversary of Triathlon in Mongolia, National triathlon championships were successfully held at Ugii Lake, in Arkhangai Province, Mongolia, with support from the Ministry of Culture, Sports and Tourism.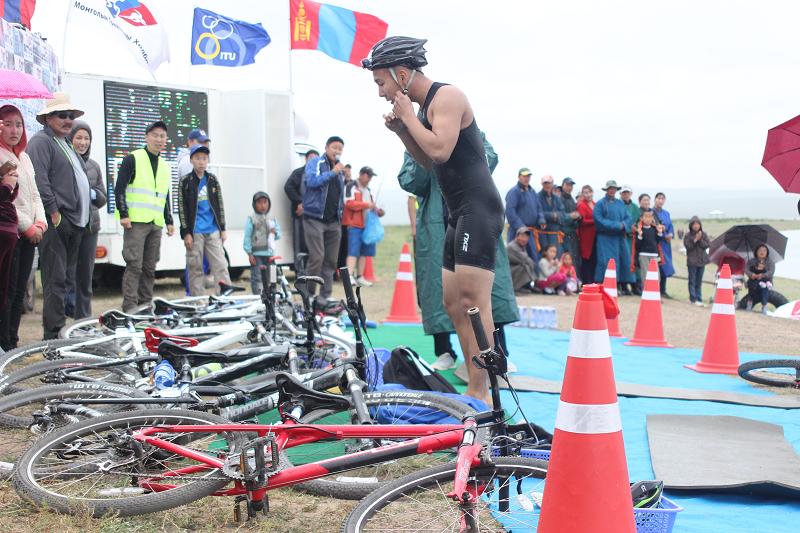 Athletes from provincial and district clubs competitively participated in the championships. It was concluded with many surprises that the young champions of the last races have proven their success this time again; brother athletes both succeeded to medals and two athletes received bronze medals as they have reached at the finish line exactly at the same time. In elite men's category, athletes swim at 1000 meters, cycle for 22 kilometers and run for 5 kilometers and Nooj Temuulen, known as from Vista club, won in this category, completing the tournament in 1 hour 25 minutes and 57 seconds. At second place, Chuluunsukh Gansukh from Khangarid Club received the silver medal by completing the tournament 20 seconds behind and Batchuluun Zorigtfrom Aqua Sports Training Center and Nooj Orgilfrom Cannondale Mongolia received bronze medals by completing the tournament in 1 hour 30 minutes and 42 seconds.
The silver medalist from this championships and gold and silver medalist from the previous games, Ch. Gansukh, who has never missed any triathlon championships, was qualified for the Mongolian Sports master with his outstanding success.
In women's category, 15 year-old Tuvshintugs Khuslen from Khangarid Club of Orkhon province, received gold medal by finishing the tournament in 1 hour 40 minutes and 21 seconds and Erdenebileg Surennyam from Orchlon club and the champion of Triathlon championship of 2012, received the silver medal.
In addition, tournaments were held in junior and amateur categories with 300 meter swimming, 5.5 kilometers cycling and 2 kilometers running.
Local authority of the Arkhangai province has expressed its willingness to support the Triathlon Championships for its next year's tournament again at Ugii Lake in 2015.