By ASTC on 14/08/11 at 10:37 pm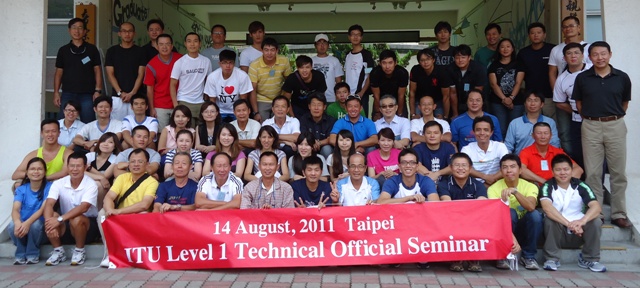 ITU and ASTC provide an opportunity to enhance the knowledge and skills for the Technical officials of the 2011 Yi-lan Asian Triathlon Championships.
60 Technical Officials candidates from 2 countries (mainly from Chinese Taipei) took 1 day course. Most of them are experienced NTOs in Chinese Taipei.
"I am so glad to have this course before Yi-lan Asain Championships. The course provided great opportunities for our Technical Officials to update ITU rules and share their experiences with ITU facilitators. I am sure that the course will be a great help for the success of the upcoming I-Lan Asian Championships" Said Mr. Yuh-Feng Liou, the Secretary General of CTTA(Chinese Taipei Triathlon Association).
"I was startled that I am conducting for a class of 60 participants but was equally looking forward to the challenge as this is the biggest turnout of all. I am so surprised to know that most of candidates are highly educated people such as school PE teachers, university students, software engineers and passionate age group triathlete. I believe that their educational background and experience in triathlon make me comfortably conduct my first class work as an ITU facilitator. I tried hard to make the participants interactive during the sessions adopting group workouts. Role plays were given, videos were shown to them and they were given a chance to come out to do their presentation upon each topic and I am really appreciate of the participants' attention." said Peter Chua ( ITU facilitator from Singapore).
The practical session will take place in Yi-lan Asian Championships in September 22nd to 24th
Find more details about this event - 2011 Yilan ASTC Triathlon Asian Championships