By ASTC on 04/06/17 at 9:56 am
From Thursday morning to right before the race start, it has rained heavily for 3 days. LOC had hard time with venue setup. Heavy rain and low tide in the ocean make strong current in the river where swim venue is. Technical Delegate decided to shorten the distance to minimize swimming against strong current after consulting with coaches and athletes.
Jumpei Furuya and other 4 Japanese athletes finished swim segment forming a leading pack. Two chasing packs consisted of athletes from Hong Kong, Chinese Taipei, and Korea couldn't reduce the gap to the leading pack in bike segment. So podium positions became a competition among 5 Japanese leading athletes in run segment. Jempei crossed the finish line first. Kotaro Watanabe, Koki Yamamoto, Ryousuke Maeda and Makoto Odakura were following the winner.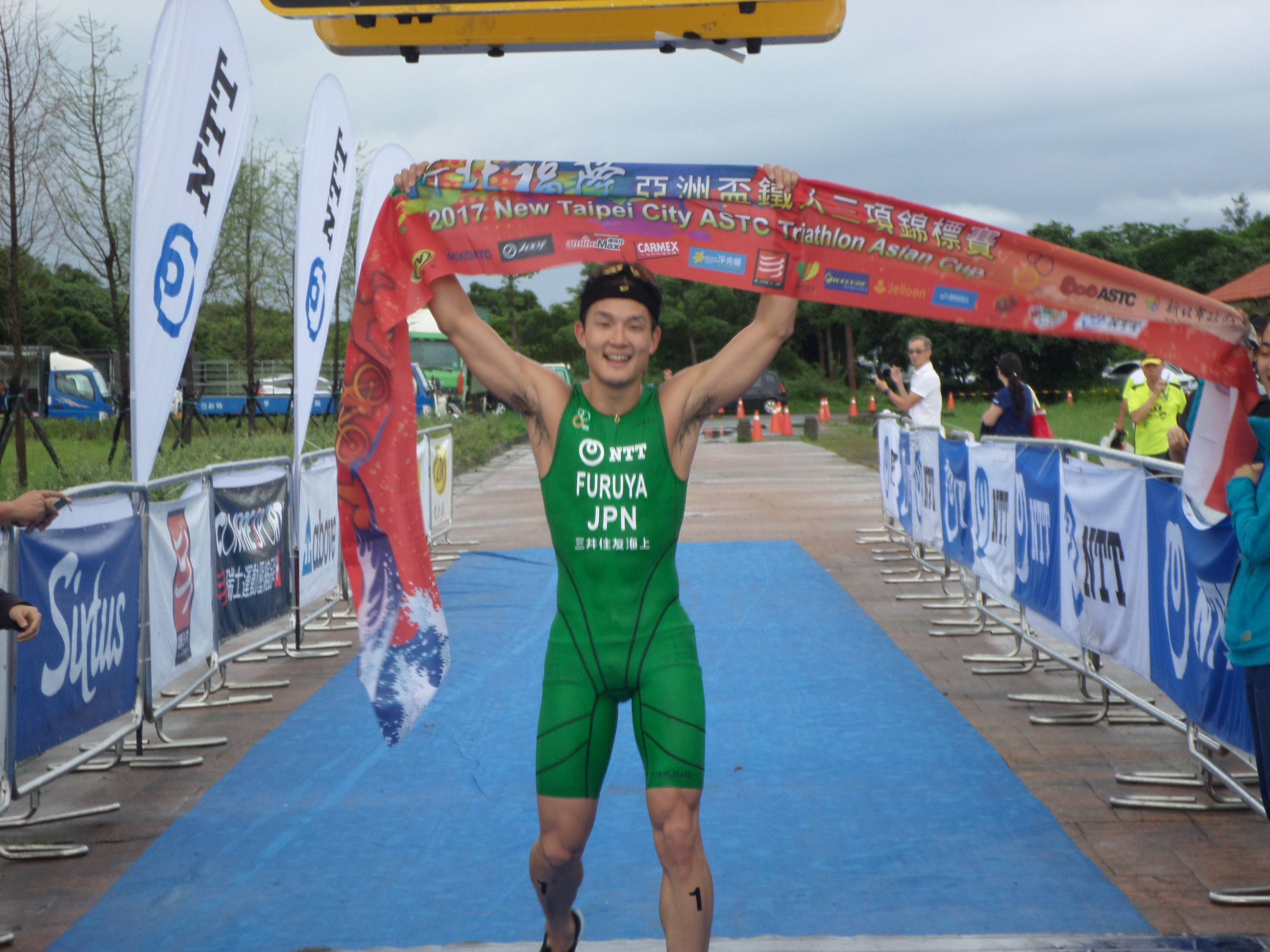 Elite Male Results
POSITION / ATHLETE NAME / NATIONALITY / TOTAL TIME
1 Jumpei Furuya JPN 1:47:44
2 Kotaro Watanabe JPN 1:48:06
3 Koki Yamamoto JPN 1:48:30
4 Ryousuke Maeda JPN 1:48:59
5 Makoto Odakura JPN 1:50:17
6 Hui Wai Wong HKG 1:50:49
7 Tsz To Wong HKG 1:51:05
8 Leong Tim Law HKG 1:51:45
9 Jung Ki Kim KOR 1:51:46
10 Tuan Chun Chang TPE 1:51:46
11 Ren Sato JPN 1:52:12
12 Michael Lam HKG 1:52:37
13 Wei Kai Wang TPE 1:52:47
14 Wei-Chih Lin TPE 1:55:22
15 Cheng Tai Wu TPE 1:56:04
16 Shen-Yen Hsieh TPE 1:56:45
17 Shing Him Yu HKG 1:57:42
18 Yu Hang Kok HKG 1:57:43
19 Zhi Zhong, Zacharias Low SGP 1:59:14
20 Chung-Hsuan Lu TPE 1:59:34
21 Andy Wibowo INA 1:59:49
22 Chih-Feng Lin TPE 2:00:34
23 Chuan Rong Loo SGP 2:01:29
24 Ryan Tan Qai Shen MAS 2:02:42
25 Suphakit Sukatiphum THA 2:03:40
26 Sirapob Sudsupap THA 2:05:27
27 Kritsanaphon Phonphai THA 2:07:56
28 Sheng Ren, Clement Chow SGP 2:08:23
29 Aldrian Yu Yong Yeo MAS 2:08:48
30 Barry Chun Sing Lee MAS 2:10:51
DNF James Tan HKG
DNF Sheng Cher, Bryce Chong SGP
DNS Cheng Yu Liu TPE
Women race started 10 minutes after the men swim started. Again two Japanese Aoi Kuramoto and Naomi Takamine came in first and 2nd places. And following two Japanese top two finishers, Chia-Chia Chang crossed the finish line with home crowd cheering.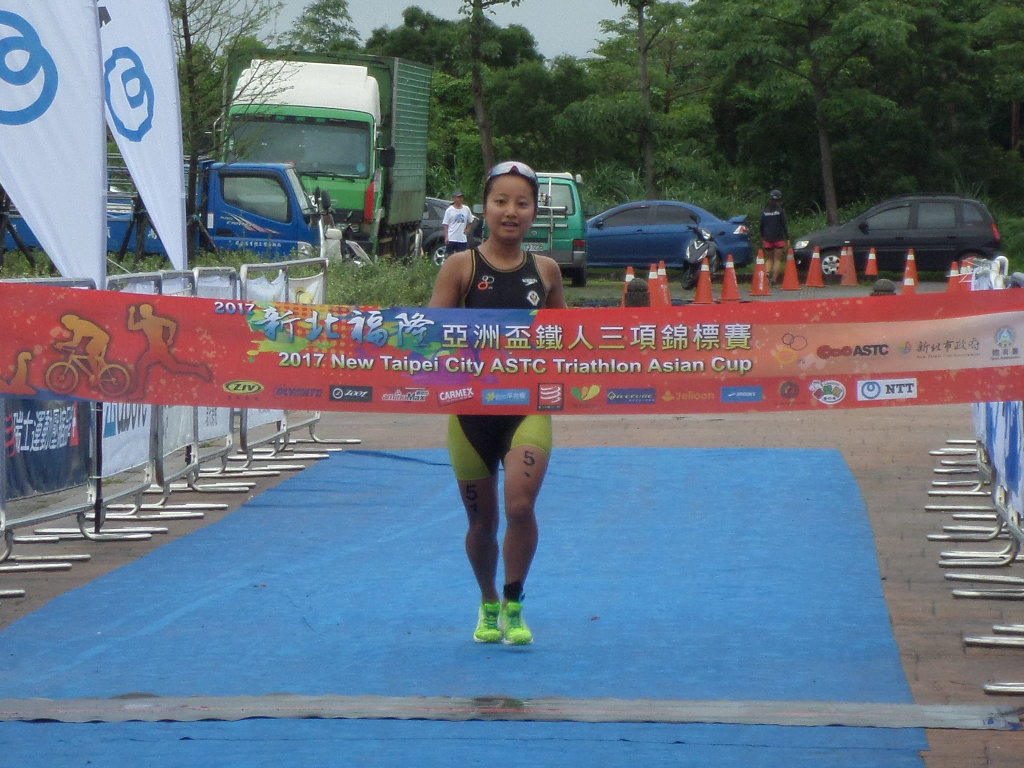 Female Elite Race Results
POSITION / ATHLETE Name / NATIONALITY / TOTAL TIME
1 Aoi Kuramoto JPN 2:06:03
2 Naomi Takamine JPN 2:09:43
3 Chia-Chia Chang TPE 2:10:14
4 Klaudia Sebők HUN 2:10:34
5 Jana Machacova CZE 2:11:38
6 Chia-Chi Kuo TPE 2:12:00
7 Chi Wen Chang TPE 2:13:12
8 Yi-Hui Liu TPE 2:16:58
9 Jeremia Christy Suriadi SGP 2:20:27
10 Cheuk Yi Chelsea Hung HKG 2:20:35
11 Chen Yin Yang MAS 2:27:35
12 Ya Chiao Hsu TPE 2:29:05
13 Winona Howe SGP 2:44:51
DNF Yun-Jung Jang KOR
DNF Pareeya Sonsem THA
DNS Ting-Ting Chang TPE
DNS Zoe Bowden MAS
Find more details about this event - 2017 New Taipei ASTC Triathlon Asian Cup