By ASTC on 25/04/11 at 8:53 am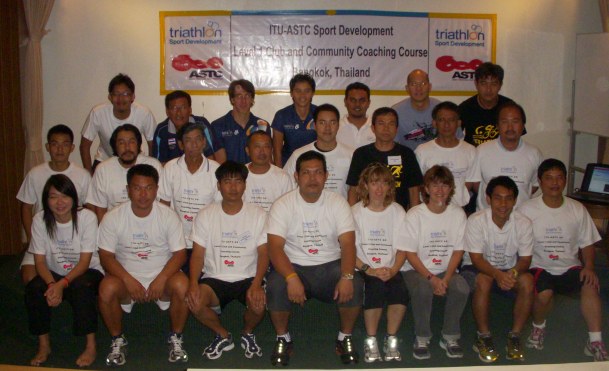 ITU Sport Development held the second Level 1 Coaching Course at the Bangkok, Thailand from 15 to 18 April 2011. Carefully selected 20 coaches from Thailand attended the 4-day certification course which is part of the ASTC strategic plan to develop triathlon across the region. Most of the participants are PE teachers or local triathlon coaches.
Ashiq Idris (Singapore) and Stephanie Chok (Malaysia) under the guidance of Luc Morin, ITU level 3 certified Coach, made the presentation of the course and conducted the practical sessions as ITU Facilitators.
Throughout the course all the candidates for coaches were satisfied with the presentations and practical sessions presented by facilitators. "All of you are super professional and full of knowledge and experiences in triathlon. Throughout the course, you kindly share your knowledge and experience to everyone in the class. Answer every question and attempted to describe when there were confused or misunderstood. After finishing the course I have reviewed what I had learnt from you. I believe that I got the objectives of the course and more about coaching philosophy," said Santi Tienwang, former national team athlete.
Vijitr Sittinawin, President of Thailand Triathlon Association and ASTC Executive Board member, commented: "Thailand has very good facilities. We hope to have more ITU/ASTC Sport Development projects in the future. The course really helps our coaches develop to the next level."